Utvecklaren som dissade Zynga
En smärre skandal inträffade på Twitter igår kväll då Dan Porter, VD:n för OMGPOP, fick frispel på Twitter över det faktum att alla anställda förutom en skrev på för de nya ägarna Zynga, som i jakt på utvecklare köpt OMGPOP för 180 miljoner dollar: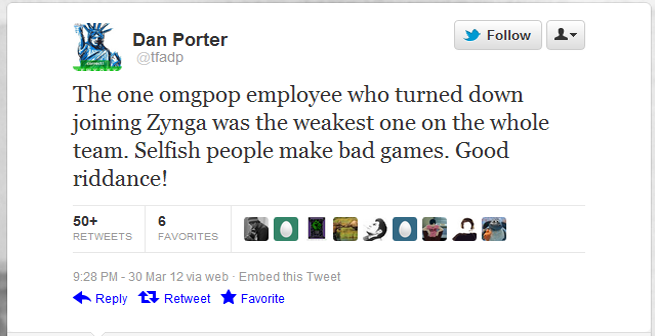 Utvecklaren i fråga, Shay Pierce, skriver själv om varför han valde att inte gå till Zynga: bolaget krävde att ta över ägandeskapet över Connectrode, ett spel han utvecklat på fritiden och som säljs på App Store men inte direkt är någon storsäljare. Pierce ville inte ge bort Connectrode, så han bad sin advokat skriva ett tillägg till avtalet med Zynga. Det gick "sådär"…
But… I love Connectrode. It's a very personal creation. My wife (who's played hundreds of hours of Dr. Mario with me) encouraged me to make it; when you first launch the game, you see a dedication to her. (The code has a special case so that on her phone, this dedication appears on every launch.) And designing a compelling abstract puzzle game is more difficult than you might think — I'm proud of it. It's not much, but it's mine.

And I was unable to get any assurance whatsoever that, by signing this job offer, I wasn't losing ownership or control of my creation.

Things were happening quickly — I felt that the company's representatives were breathing down my neck. If I didn't sign, and sign soon, I wouldn't have a job. Everyone else had signed — what was wrong with me?

When that 11 p.m. call came, the decision I'd feared was exactly the one I was being forced to make: Connectrode or a job with Zynga. I got off the phone and called my attorney. By 1 a.m. we'd drafted a very reasonable addendum to clarify my points. Connectrode makes almost no money anymore — I knew it really shouldn't be a sticking point if Zynga wanted to give me a job offer. Surely a compromise was achievable, right? I emailed the addendum and went to sleep at 2 a.m.

Nine hours later, I was told that the addendum had been completely rejected — there was no compromise here, and no getting around making this decision.

And then I wondered: why was I even trying to compromise? Zynga has an Austin studio, where several good friends of mine work. Yet I had never applied to Zynga. Why? Because the company's values are completely opposed to my own values, professionally and creatively. Because I believe that developers are at the front lines of game development and deserve to be treated well, and I didn't trust Zynga to do so. All this was still true — except that their complete unwillingness to negotiate with me only confirmed my concerns. Why on earth was I even considering joining?
Osnyggt av Zynga, och osnyggt av Dan Porter.